General Information
Trip Duration: 6 Days/ 5 Nights
Starting: Vientiane, Laos
Finishing: Luang Prabang, Laos
Destination: Laos
Type of trip: Classic
Theme: Nature, Culture
Brief Itinerary
Day 1: Vientiane Arrival
Day 2: Vientiane City Tour – Buddha Park (B/ D)
Day 3: Vientiane – Luang Prabang Half Day City Tour (B/ D)
Day 4: Luang Prabang City Tour – Kuang Si Waterfalls (B/ L/ D)
Day 5: Pak Ou Caves (B, L)
Day 6: Luang Prabang Departure (B)
Detail Itinerary
Day 1: Vientiane Arrival
Upon arrival in Vientiane, you will be met and warmly welcomed by our tour guide and driver, then transfer you to the hotel for check-in and relaxation. The rest of the day is at your leisure to explore this largest city of Laos. Today, meals are on your own. Stay overnight at the hotel.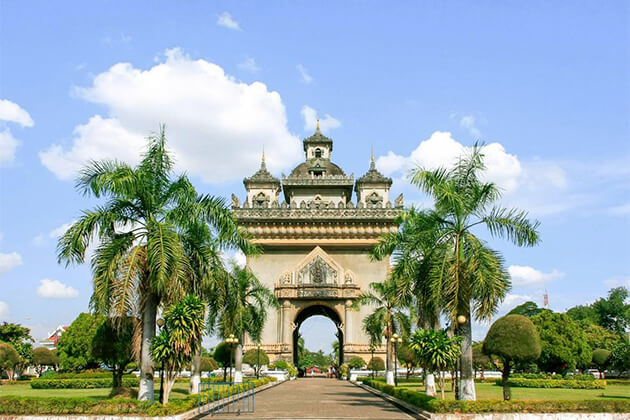 Day 2: Vientiane City Tour – Buddha Park (B/ D)
In the morning, you will be served breakfast before visiting Buddha Park – a reputable sculpture park with more than 200 ancient religious statues including a huge 40-meter high reclining Buddha images.
After that, we transfer to Vientiane city and enjoy delicious lunch to get ready to discover the city tour with:
Vat Sisaket – Vientiane's ancient surviving monastery with a wide range display of Buddha images from the 16th to the 19th century.
Vat Phra Keo, which is home to the Emerald Buddha after it was snatched from northern Siam. It was originally constructed in 1565 as the Lao royal family's personal chapel, and Pha That Luang – a center of religion and culture about Laos' colorful and ancient culture and history.
Patuxay where you can get a deeper understanding of ancient structural style that is inspired by the traditional Laos style.
Vientiane Night Market – the bustling market area around Vientiane with animated daily life activities- a colorful corner of life of the local people.
When the sun begins to set, we return to the hotel for meals and overnight.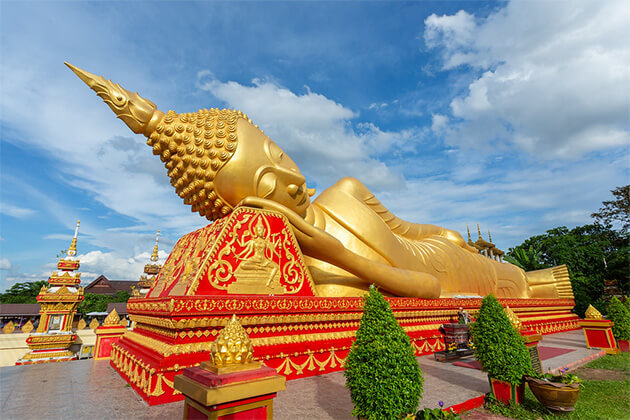 Day 3: Vientiane – Luang Prabang Half Day City Tour (B/ D)
After having breakfast, transfer to the airport to take your domestic flight to Luang Prabang. Upon arrival in Luang Prabang, you will be met and warmly greeted by our tour guide and driver to head to the hotel for check-in and have a short rest.
In the afternoon, we start an amazing city tour by visiting the following destinations:
Wat Visoun, which is known as an unusual structure representing the earliest Lao style.
Wat Aham – a small temple that has a deep history of both Buddhism and spirit worship.
Phousi Mountain where you can capture a nice panorama of the city and enjoy the stunning sunset.
H' mong Night Market where you can find a lot of souvenirs in a traditional style of Laos.
Afterward, we transfer back to the hotel for dinner and stay overnight here.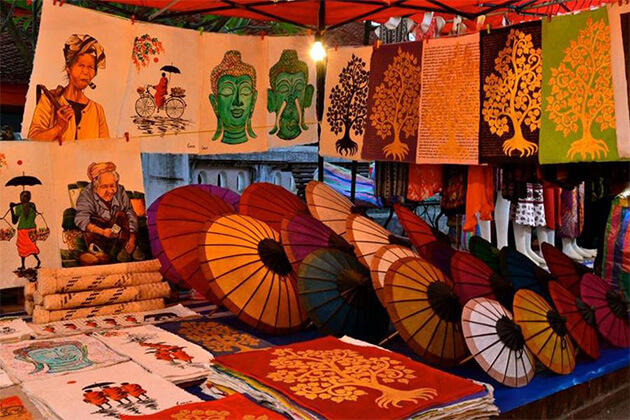 Day 4: Luang Prabang City Tour – Kuang Si Waterfalls (B/ L/ D)
Wake up early in the morning and enjoy breakfast before visiting the morning market get a closer insight into the locals, savor authentic Lao food, and witness the people as they wander.
Pay a visit to Vat Xieng Thong – one of the most important of Lao monasteries and remains a significant monument to the spirit of religion, royalty and traditional art.
Head to Kuang Si Falls a stunning turquoise waterfall. On the way, you pass through beautiful rice fields and small villages dotted along the country road. More interestingly, take a fresh swim to refresh and relax.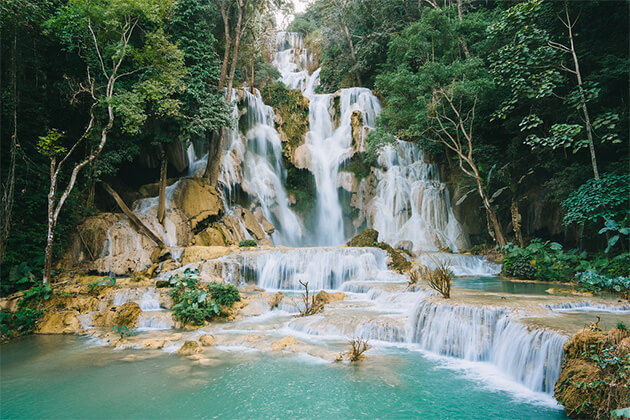 After that, we return to Luang Prabang and pay a visit to the Traditional Arts and Ethnology Centre (closed on Monday) – an engaging, culturally rich learning center located in the heart of Luang Prabang.
Then, we visit many temples including Wat Sop and Wat Sene, Wat Sibounheuang, Wat Si Moungkhoun.
In the evening we transfer back to the hotel to enjoy dinner. Overnight at the hotel.
Day 5: Pak Ou Caves (B, L)
In the morning, we pick you up at y our hotel by tuk-tuk to depart to the boat jetty.
Then, we have a great chance to experience the Nava Mekong ( it takes about 2 hours on the cruise). On the way, we get ready to fall in love with peaceful sceneries as well as witness the lives of local people living along the river. We also stop at Ban Xang Hai village to enjoy unique Laos dishes on board (the cruise will take about 1.5 hours to turn back Luang Prabang)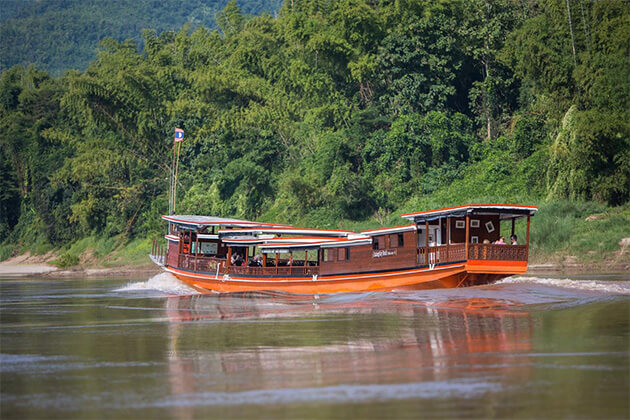 Upon arrival in Luang Prabang, we will pick you up at the boat jetty and transfer you back to your hotel for dinner and relaxation. Overnight at the hotel.
Day 6: Luang Prabang Departure (B)
Enjoy breakfast, and then you will free at your leisure until we transfer you to the airport to take your departure flight. Meals on your own. Tour ends. We wish you have unforgettable memories and experiences with Go Indochina Tours.