If you are thinking of fulfilling your dreams of traveling, Indochina with three countries Vietnam, Cambodia & Laos is a perfect destination. Indochina is home to the rich history, ancient culture, especially the culture of Buddhism. Each country of Indochina including Vietnam, Cambodia & Laos has its own distinct beauty. Take an Indochina trip through the heart and the soul of the region to admire the spectacular landscapes and the unique culture of three countries in one trip. Go Indochina Tours from India recommends the top ten must-see highlights in Vietnam, Cambodia & Laos for Indian travelers.
Best Things to Do & See in Vietnam
Xin Chao! Welcome to Vietnam, which acquires a reputation for a myriad of stunning natural sites and wonderful architectural buildings, especially in the capital Hanoi and bustling Ho Chi Minh City. Interestingly, you can immerse yourself in amazing things in this S-shape country.
Stroll around Hoan Kiem Lake
Located in the capital Hanoi city, Hoan Kiem Lake or Sword Lake is a must-see destination for travelers with a rich history and colorful activities. If it is the weekdays or weekends, there are always a lot of people simply enjoying a peaceful moment, taking photos, participate in activities around the lake. Interestingly, people can sit on benches or walking their dogs to chill out.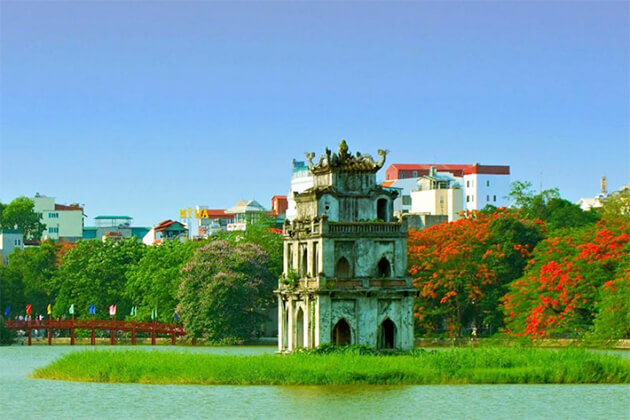 Immerse in Hanoi Old Quarter
If you are looking for a unique experience in Hanoi, Hanoi Old Quarter might be a window for you to get a closer insight into colorful Hanoi life. When it comes to this destination, we are usually thinking of the ancient city with the name "36 streets of Hanoi". Every street is a place keeping the historical memories of the capital and the memory of the lives of many generations here to work and build the country. Visit here, you can explore the small, narrow streets with busy transport streams, and admire the works in stores or can join Dong Xuan night market in the center of Old Quarter to get a further discovery of the beauty of the capital land.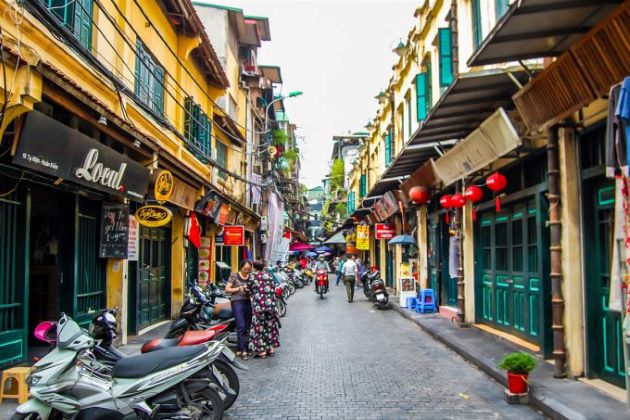 Admire Architectural Constructions
Hanoi capital and Ho Chi Minh City are really attractive with a huge number of architectural sites. You can visit a lot of places without paying any fee and admire the architecture both in traditional and European style, for example, Notre Dame Cathedral and Central Post Office in Ho Chi Minh City, Long Bien Bridge in Hanoi or the pagodas or temples in Hanoi and Ho Chi Minh are also free to get a visit.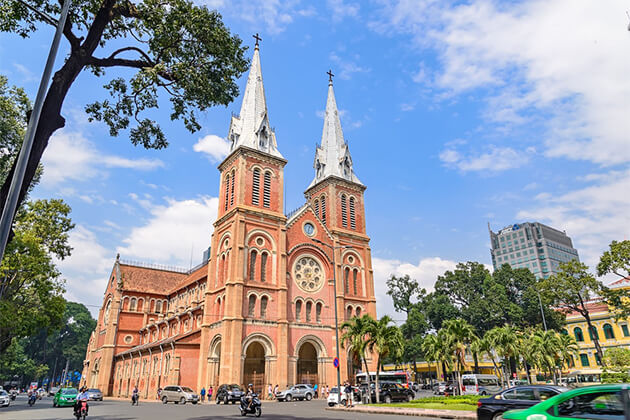 Explore Stunning Halong Bay
Halong Bay is one of the most reputable spots in Vietnam and consists of a series of spectacular natural wonders and wonderful limestone islands which are also a designated UNESCO World Heritage Site. Coming to this Bay, you can immerse in a wide range of activities to unwind such as take a cruise, go diving, go night squid fishing, take a seaplane as well as exploring Lan Ha Bay, Cat Ba National Park, Monkey Island and much more. Halong Bay promises unforgettable memories and amazing experiences for every tourist travel here.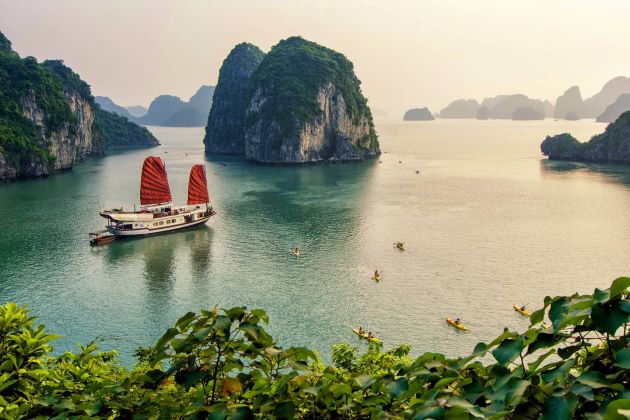 Explore Hoi An Ancient Town
Hoi An Ancient Town is a well-preserved spot of a South-East Asian trading port. Its buildings and its street plan reflect the influences, both indigenous and foreign, that have combined to produce this unique heritage site. This charming town is located in Viet Nam's central Quang Nam Province, on the north bank near the mouth of the Thu Bon River. Visiting here, you can enjoy a long journey to explore the history, the people and the culture of the most beautiful and untouched ancient town in Vietnam. Walking around Hoi An old town, the calm and serenity of the ancient town like a time machine will bring tourists to the poetic life.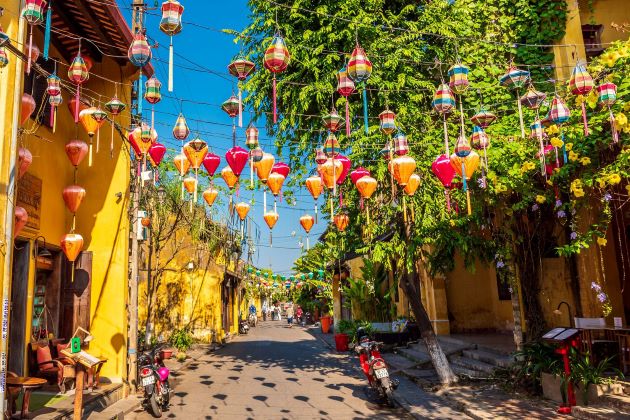 Top Things to Do & See in Laos
Welcome to the heart of Southeast Asia, Laos! This tranquil place attracts millions of visitors around the world visit each year. With the ancient architecture in the unique Buddhist works across the country and the pristine natural beauty, traveling in Laos, you will surely have unforgettable memories.
Visit the COPE Visitor Centre
If you are the visitors who care about the dark side of the history of Laos, you should visit the COPE Visitor Centre where keeps the remains of the war. Visit here, you can imagine a painful history that Laos has experienced. The center is located in the capital of the country, Vientiane.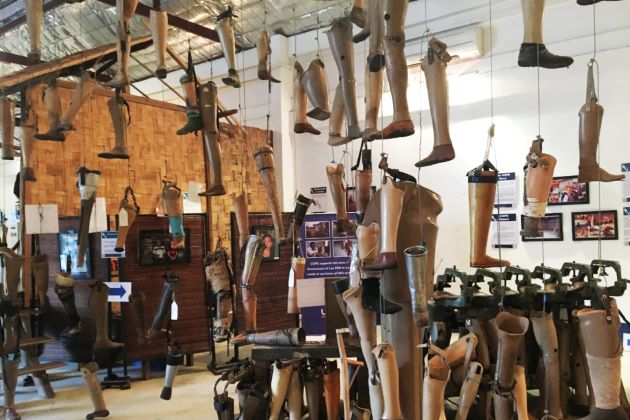 Witness Alms Giving Ceremony
Set your foot in Luong Prabang, you can have ample chance to admire a scene of almsgiving ceremony between the locals and monks in the early morning. In fact, this is the typical cultural feature of countries following Buddhism. Laos especially become a part of the daily life of locals showing the beauty of people here.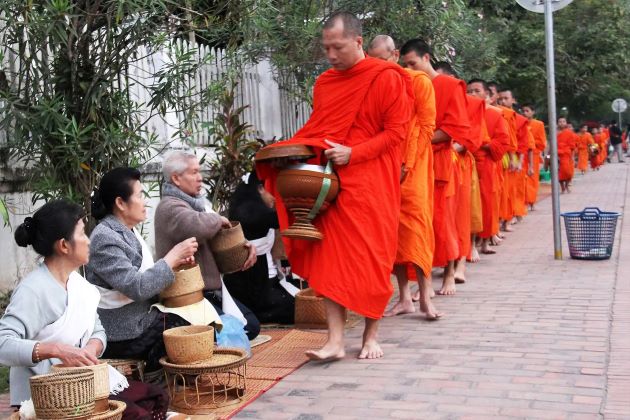 Travel around Vang Vieng
On the way from Vientiane to Luong Prabang, travelers can stop at a wide range of beautiful attractions to explore. Vang Vieng is one of the most popular attractions, which is known as a nice and peaceful countryside with fresh and cool air. Traveling around Vang Vieng and admiring the pristine beauty of the landscape here will certainly make you relaxed after a long trip.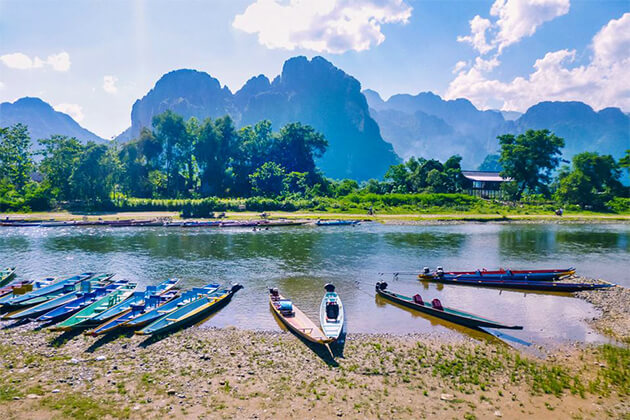 Best Free Things to Do & See in Cambodia
When traveling to Cambodia, the capital Phnom Penh is always the must-see place to visit whether visitors have a long or short trip to Cambodia. Experience the following free places will make your trips more excited and meaningful.
See the Independence Monument
Located in the capital of the country, Phnom Penh, the Independence Monument is a destination that should not be ignored because of its unique Khmer traditional architecture. It is also the center of activities of the country on the occasions of national festivals or celebrations, especially on National Day.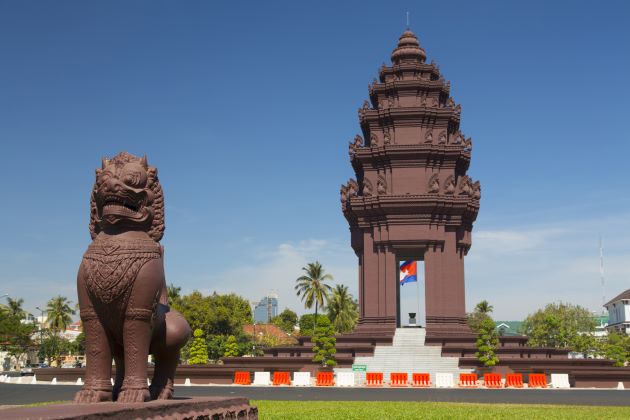 Visit Phsar Thom Thmei (Central Market, Phnom Penh)
This is not just a shopping center place but also a quite popular attraction in Cambodia. The Central Market is considered the biggest market in Phnom Penh. When traveling to the market, you'll be marvel at the vibrant atmosphere of the busiest trading scene. The indigenous people are happy and friendly to introduce diversified items to customers. You also have ample options to choose gifts for your beloved person, your friends,… Whether you buy or not, sellers are still happy to welcome you.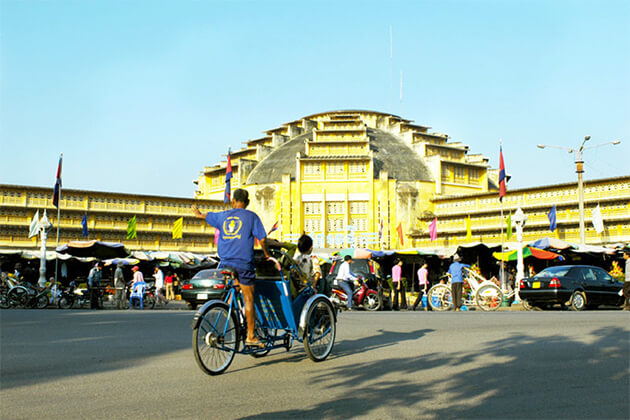 Admire Phnom Penh's Street Art
If you are a big fan of art, street art in Phnom Penh is the best choice for you. Street 93 is the most reputable and nice place where shows various colorful pictures on the wall. Visit here, you can have a great opportunity to explore the culture and lifestyle of locals here.