Like most Southeast Asian countries, but more straightforward, Laos is featured by two main seasons: the dry season (or rainy season) and wet monsoon season. The former starts from November to April, the latter lasts from May through October. Depending on the particular weather, it is considered that between November and February is the best time to visit Laos. Based on your schedule and interest, however, you can still enjoy traveling to amazing destinations all-year-round in Laos. Read on and choose for yourself a suitable time and book an Indochina tour to experience this land-locked country!
Weather in Laos by Seasons
Laos has a tropical climate and especially has no coastline. Thus the weather is just slightly affected by land-locked around. The weather system is simpler than other countries in the area, with the dry season and wet season. However, the temperature in each season varies because of different altitudes throughout Laos. The average temperature ranges from freezing point to scorching hot, about over 35 degrees Celsius. Each time has certain elements including temperature, humidity, and rainfall.
Wet Season
The wet season in Laos runs from May to October, featured by downpour raining regularly. When it comes to wet season or rainy season, it is normally related to rainfall all the time, but it's not. The rainfalls just last about a few hours a day, not an all-day monsoon, so visitors can still choose the best time during a day to embark on a journey in Laos this time. The wet period starts with extremely hot temperatures in May and June, about 35 degrees Celsius and above. Therefore, if you cannot bear that weather, you can head north for cooler air. The temperature decreases a bit in the next month, and waterfalls will cascade drastically in the south, while foliage swathes the landscape in central Laos. The peak of the wet season occurs in August, tagging along with many disadvantages and damages. As the already dirt road in Laos, rains make it worse in this season, as well as landslides lead to infrastructure destruction. Thus, transportation could become slower and tougher, which is not uncommon in this country, especially in the countryside. However, the following month will begin with sunshine, lush greeneries and glistening waterfalls, which makes September an optimum tourism month in Laos.
Dry Season
As mentioned above, dry season spans from November through April, and the first four months of the period are the peaks of the holiday season. The temperature is around 15 to 30 degrees Celsius. The beginning of the dry season is the most ideal time for traveling and exploring Laos. It is agreeably warm and dry in the daytime, and it is comfortably cool in the evening. Moreover, the landscape is full of fresh and lush greeneries after the rains, which make tourists feel pleasant and satisfied. Also, the water is at the highest level, so travelers can enjoy water activities in November and December. The weather becomes warmer in the next two months, then reaches the highest temperature in March. It is not only unbearably hot, over 35 degrees Celsius, but also smoky due to annual 'slash and burn' practice. Farmers burn all the remaining of the harvest, leading to a very gloomy air covering every corner. This might cause discomfort for people coming here this time.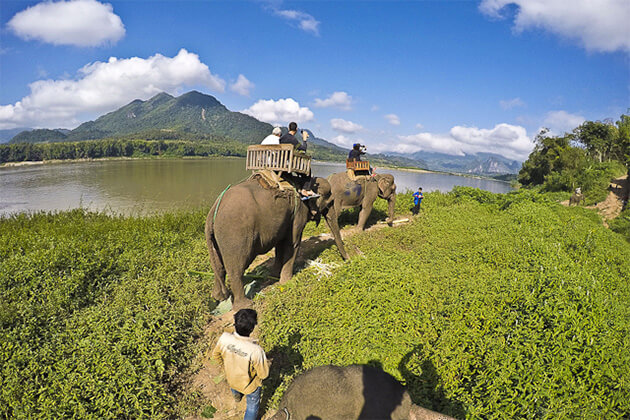 Best Time to Visit Different Regions in Laos

Now let's take a look at the suggesting list of wonderful tourist attractions in Laos below:
Luang Prabang
Located in northern Laos and surrounded by jungles, Luang Prabang is a must-visit destination for those who fancy ancient and traditional architecture, culture and religions. Luang Prabang features a tropical wet and dry climate, and it is a bit cooler than other parts of the country, with the highest temperature reaching 30 degrees Celsius. When travelers come there in the cool dry season, they can easily contemplate peaceful scenery. You will have a chance to see fantastic and unique scenes of numerous monks walking in a procession through the streets accepting alms offered by residents. This land is a UNESCO World Heritage Site and is celebrated for its exquisite temples and French colonial buildings, so travelers can drop in a lot of ancient architecture there.
Vientiane
The capital of Laos – Vientiane is seen as the typical wet and dry seasons. The perfect time to travel is from November to March when the weather is drier and cooler, with a good temperature of around 17°C, it only runs to 30°C until March. At this time, rainfall is rarely so this is the high tourist season here. Visiting Vientiane at this time, you will have ample chance to immerse yourself in the tranquil and peaceful atmosphere of the well-known temples in Laos. Moreover, there is nothing better than the favorable weather which helps your trip to other iconic sites such as Patuxai, Pha That Luang, Buddha Park, and more.
In contrast, April and May are hotter with the heat is sometimes 34°C. Most importantly, you should prepare umbrellas and raincoat because torrential afternoon rains happen regularly between May and September.
Mekong Rivers
The Mekong Rivers is one part of the confluence of Luang Prabang, together with Nam Khan. In November and December, the river level reaches highest, so it is the best time to journey along the Mekong River. It all comes together to create stunning and fantastic scenery and landscape in the area. You will have a chance sitting on the boat and contemplating incredible fauna and flora in the banks of the river in comfortable weather. In months later, though it is not as ideal as at the beginning of the season, tourism can still enjoy water life and cool air near the rivers, which dispels scorching hot weather at that time.
During the wet season, particularly in September, travelers can enjoy a slow boat tour thanks to high water level and incredible natural landscapes. An ideal destination is Mekong Rivers, located in a rich-cultural and ancient Luang Prabang. Slow boats would be the best choice of owning to a suitable pace in the rainy season. Along the river, many rapids are submerged contributing to deeper drafts of slow boats. It is going to be an amazing experience in the stunning Mekong River.
The Southern of Laos
In the south of Laos is an ideal spot you should not miss in your trip to Laos. When it comes to weather, from June to September receives torrential rains that may interfere from your journey by sleek roads; thus, this is the perfect time to travel around southern Laos on a boat, especially discovering the largest waterfall in Southeast Asia – Khone. In the waterfall, the cluster offers smaller waterfalls with cool and clear water that you can freely swim and bathe. Kayaking to encounter Irrawaddy is one of the most interesting activities at this time.
From November to March, the weather is drier and cooler, it is also a good time to explore the sites on land, while March till May is considered as the hottest season because the heat is on the peak, generally reaches 34°C. This time is suitable for traveling Wat Phou – one of the two world cultural heritage in Laos with ancient civilizational relics with sandstone castles, pagodas, and temples worshiping Theravada Buddhism. It is also an ideal destination for travelers to get a deeper understanding of history and culture here.
In general, throughout Laos, from November to April, rainfall is the lowest level of the year and the sky is clear to capture stunning nature pictures. Besides, big national and regional festivals take place during the period, so you have a great opportunity to catch up with interesting things and meaningful activities.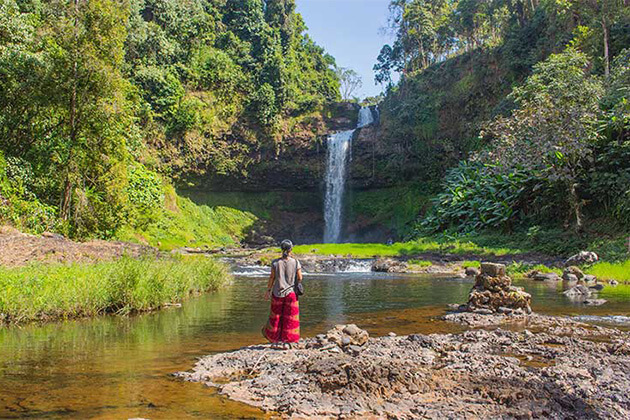 This weather information above is some suggestions for you when planning a tour to Laos. More easily, tell us the place you desire to drop and discover in Laos and we will show you when the best time to travel Laos is! All of the things you need to do are to package your suitcase and go!