Laos visa is what Indian visitors need to begin their trip to Laos. Indeed, travelers can easy to get a Laos visa and it will not take them a lot of time. If you are going to enjoy Indochina tour packages, this useful article is for you.
What Kind of Visa Do Indians Need to Travel to Laos?
To travel Laos, visitors need a tourist visa issued by a Lao Consulate or Embassy.
Visa on arrival is also available at international airports in Vientiane and Luang Prabang for most people but citizens of the following countries: Afghanistan, Algeria, Bangladesh, Burundi, Cameroon, Congo, Cote d'Ivoire, Ghana, Guinea, Guinea Bissau, Jordan, Lesotho, Liberia, Libya (Libyan Arab Jamahiriya), Mozambique, Nauru, Niger, Nigeria, Pakistan, Senegal, Sierra Leone, Sri Lanka, Suriname, Syria (Syrian Arab Republic), Swaziland, Tonga, Turkey, Zambia, Zimbabwe. According to notice No. 1232 issued on October 1st, 2009 by the Ministry of Foreign Affairs of Laos, all of the circumstances on the list need to ask for their visas at Lao Embassies Consulates abroad prior to entering Laos. However, people who are on official visits and holding a guarantee from the Ministry of Foreign Affairs of Laos are exempted.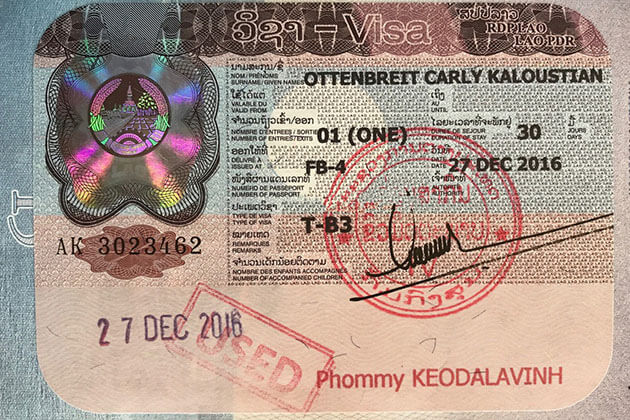 Tourists who have not required a visa to get to Laos must be citizens of Russia, Japan, Swiss, Korea, and ASEAN countries.
Besides, it's advised to apply for a visa on arrival for the quick process and your convenience.
What Are the Validity of a Lao Visa and the Duration of Laos stay?
A Lao visa is the validity for 60 days from the issuing date. The allowed time of your Laos stay is normally 30 days for one entry from the date of entry.
What Materials do Indians Need to Apply for a Lao Visa?
One application form, one or two passport photos, a passport for at least 6 months with at least one-page blank.

What is The Price of Applying for a Lao Visa?
Below is the list of visa fare for many countries. If your country is not included, perhaps you must pay $US30 to pick up the visa or you are not permitted for getting Laos visa on arrival.
If you choose to pay in Thai Baht, it will cost you around 1,500 Baht which is appropriate $US46.
| | | | | | | | | |
| --- | --- | --- | --- | --- | --- | --- | --- | --- |
| The Nation | United States | Canada | Australia |  New Zealand | Sweden | India | China | Others |
| Price | $35 | $42 | $30 | $30 | $31 | $40 | $20 | $30 |
Note: The exact fee may change due to the real situation.
How Long is The Processing Time?
For a tourist visa, it often takes from 2 days up to 2 weeks to obtain your Lao visa. For Visa on arrivals at airports, you spend about 20 minutes to complete the procedure.
Note: In public holidays, weekends and afternoons, the applying window is always busy. Besides, the entry fee might be needed (usually 2,500 Laos Kip).